New !!!!!!!!!
"Rat Fink & Other Kewl Hat Pins"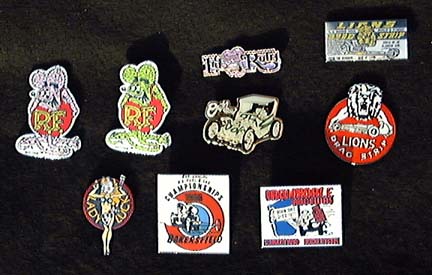 (L-R) Rat Fink Pink, Green, Ed Roth, Outlaw, Lions # 1, Lions # 2
Lady Luck, Bakersfield & Irwindale
Take yer pick! $ 5.00 each +S+H
Last Up-Date 07/26/03
Affiliate Websites
Rat Fink™ name and device and Ed "Big Daddy" Roth and "Moldy Marvin"
are trademarks of Ed Roth © 1999/2000/2001/2002 Rat Fink device © Ed Roth 1984/89
Copyright 1999/2000/2001/2002/2003 @utomated Entertainment Little Rock CA