RaT FiNKTM
Penny Racer with Pull Back Wheelie-Poppin' Action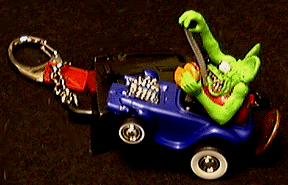 Step back to the 60's, when a far out varmint named Rat Fink became the icon of
freewheelin' , hot rod counterculture. Today, Ed Big Daddy Roth's vision lives on
through his cast of wacky characters, funky street rod designs, and now, Basic Fun
keychains! Mini penny-racer style, Rat Fink hot rod keychain races and wheelies
when you pull it back and let it go!
Call
(800) 880-6567 or (818) 755-0822
(Ed "Big Daddy" Roth, Rat Fink, Beatnik Bandit, Road Agent, Outlaw, Mysterion, Tweedy Pie, Stealth 2000, Surfite, Wild Child,
Angel Fink, Robin Hood Fink, Mothers Worry, & Dragnut are all trademarks of Ed Roth (C) '99)
This Page Last Up Date 09/11/01

Copyright 1999/2000/2001 @utomated Entertainment Burbank CA 91510