New !!!!!!!!!
"Rat Fink Antenna Topper"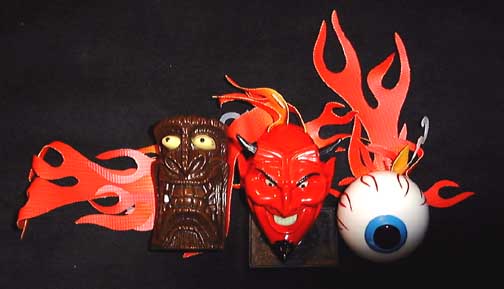 We stock other toppers too! Burnin' Tiki, Burnin' Devil and the one that started it all Burny the Burnin' Eyeball
Take yer pick! $ 6.00 each +S+H
New! New! New!
Check this out !!!! A Topper clip fer yer bike r' whotever!
Accomidates up to 7/8" O.D.
When purchased separately
Get (1) fer $ 2.00 +S+H
Get (2) fer $3.50 +S+H
Get (3) fer $4.50 +S+H
Get (1) when ya buy a Topper and get them both for only $ 7.50 +S+H
$ 10.00 Minimum purchase when using your credit card
Last Up-Date 01//15/04
Affiliate Websites
Rat Fink™ name and device and Ed "Big Daddy" Roth and "Moldy Marvin"
are trademarks of Ed Roth © 1999/2000/2001/2002/2003/2004 Rat Fink device © Ed Roth 1984/89
Copyright 1999/2000/2001/2002/2003/2004 @utomated Entertainment Little Rock CA