Charities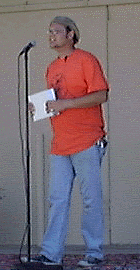 Our Charity Auction and Raffle Raised $ 2,800.00 which will be split between our Charities. If anyone has any pictures of our Charity Raffles or Auction Please e-mail them to us and we will give you a name credit. We also took in some food items for the Necessities of Life Food Bank.
We Would like to thank everyone for their help & support. We could not have done it without you !!!!
Some of the things that were donated to Our Auction Click Image For A Closer L@@K
Shifters by Eyeball John
Frankie by Dirty Donny

RF Mirror By

Becca Goddess 0' Glass

Toilet Seat Top By Kenny "Mitch" Mitichrony

Toilet Seat Inside Top By Coop # 1 from Ohio
We ask that you continue to support these charities as much as possible, Please Click on the links below to find out how you can help with things that are needed then visit their Websites for more information.
| | |
| --- | --- |
| | |
| Moldy presenting $ 1,400.00 Check To A.P.L.A. (The Director Didn't want To Be Photographed) | Moldy presenting $ 1,400.00 Check To Martine Colette Founder of The Wildlife Waystation |
This page last Up-dated 07/14/00
Hey Kids Get On The Order List For The Documentary Video of This Event, To Be Released Sometime in August or September "Price To be Announced" .
We Are Also Taking Orders for Our Official Show Shirt
S-XL $ 15.00 XXL $ 17.00 + $ 3.20 Fer Tha Shipping
Just Give Us A Call @ (800) 880-6567 / (818) 755-0820 Or E-mail Us
And Now A Word From Our Sponsors
| | |
| --- | --- |
| | Western Costume |
Rat Fink™ name and device and Ed "Big Daddy" Roth and "Moldy Marvin" are trademarks of Ed Roth © 1999/2000 Rat Fink device © Ed Roth 1989
(Ed "Big Daddy" Roth, Rat Fink, Beatnik Bandit, Road Agent, Outlaw, Mysterion, Tweedy Pie, Stealth 2000, Surfite, Wild Child,
Angel Fink, Robin Hood Fink, Mothers Worry, & Dragnut are all trademarks of Ed Roth (C) '99/2000.)