Rat Fink Reunion "99"
Ed and I would like to thank all of you folks that came to The Rat Fink Reunion Saturday December 11,1999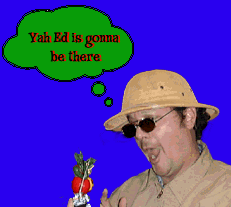 especially all of our artist friends that donated their works not mention you folks that so graciously bid on the stuff ta make the Shriners Auction such a success. Course we wan'na thank Shige, Chico and their crew of "devoted employees" at Mooneyes and all the talented music folks too,, couldn't of done it without'em. For those folks that got pictures of the event ya can e-mail 'em to us and we'll post'em for ya and give ya a name credit too. And please everyone have Happy and Safe Holidays this year cuz we want ya all to come back Next Year........... Moldy Marvin
Oh Yeah we also would like ya all to e-mail us yer Street address so we can put ya on our mailing list cuz were gonna start some kind of news letter and we'll also be sending out a new catalog "O" stuff soon.
The Rat Fink Reunion 99 Line up Thanks you Guys:



Randy's Signs, Robert Williams, Larry Watson, Gene Winfield, Von Franco, Coop, Dennis McPhail and the Artists at Large Group, Jimmy C, Dave Burke, Willy with Daddy'O, Dan Collins, Bio Bert & The Other Coop too.

Live Music by: Hot Rod Trio, Tiki Tones, & Dyna Tones
These Pages are Gonna Load a little slow So Please be Patient cuz we got tonz of pictures ta show ya....
If Yaw Want to Talk To Us Check Out Our Chat Room And Guest Book Just Click The Links Below
Bookmark our Website and Check Out Drive Magazine on line for some great articles by "Big Daddy" Himself

Rat Fink™ name and device and Ed "Big Daddy" Roth and "Moldy Marvin"
are trademarks of Ed Roth © 1999/2000 Rat Fink device © Ed Roth 1989
Copyright 1999/2000 @utomated Entertainment Burbank CA 91510