A little history on this car.
A good friend of mine by the name of Marty "Roadsavage" Dyer put this car together. I believe he had first purchased it in the
late 80's to early 90's, he was with the Air Force stationed in Southern California at the time.
When he purchased the car it had been a bit abused, the roof was sort of messed up, it had some fender
damage, and because of this Marty was able to get a pretty good deal.
Marty wasn't to worried about the condition of the car because he wanted to build a Kustom.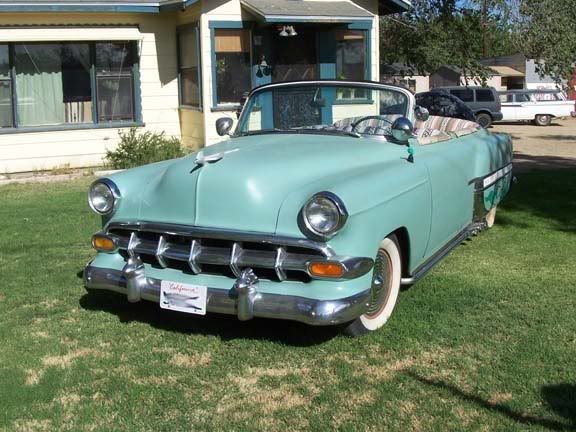 I met Marty in late 90's on an online egroup and by that time Marty had pretty much done most of the work.
He had been discharged from the Air Force and had moved up to Seattle.
We had hooked up a couple of times but I finely got to see the car in 2001 up in Wendover Utah at a Drag Race,
he had just panted the car purple, man was that a sight!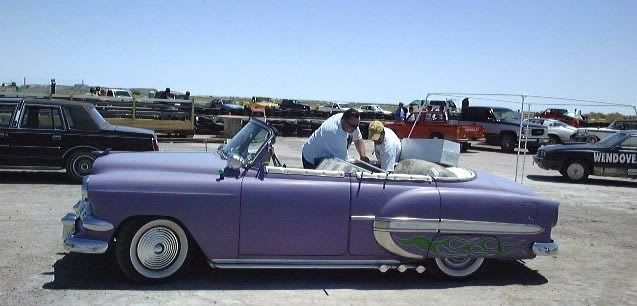 (Marty unpacking his easy up.)
Marty was a pretty incredible person and he became the President overseeing the
northwest chapter of Mutilators Motor Association.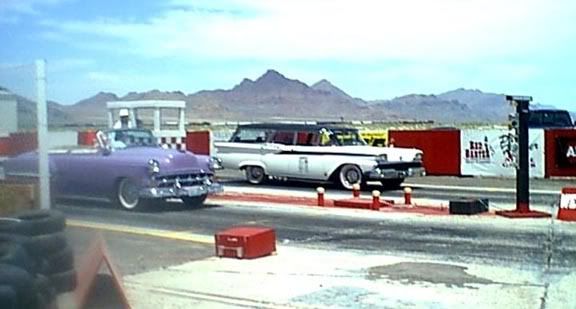 For the next 7 years Marty would drive his 54 Chevy all the way from Seattle to hook up with some of us at different events.
These trips included several to different parts of Utah, Las Vegas and Los Angeles.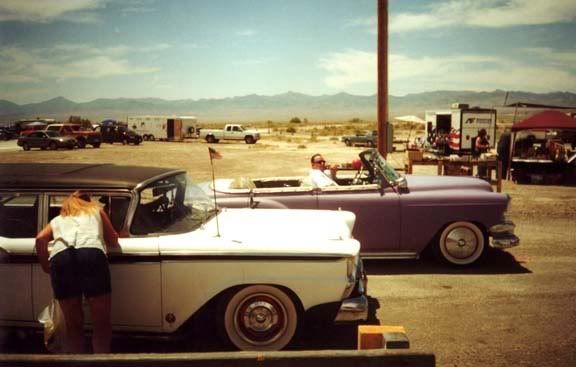 Marty continued to work on the car and had put manual disk brakes on the front, painted it once again as we see it today.
The paint used is out of a rattle can and is very close to the original color
of the car when you compare it to the color in the door jam.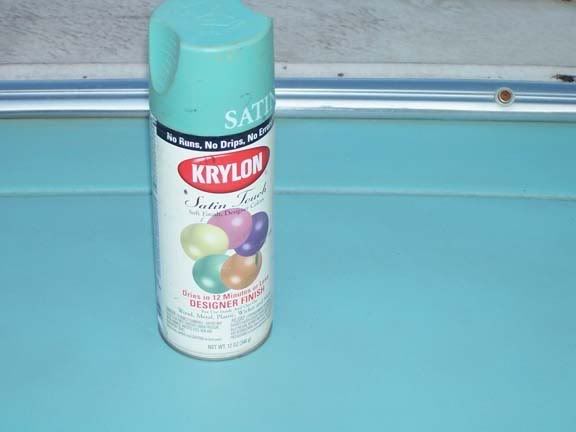 In fact you would never guess that the paint was from a rattle can unless you knew it.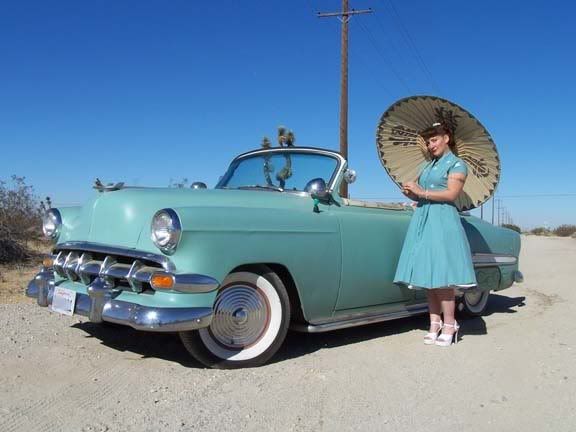 Margo Lee photo shoot 2006
He had also put together a old school top for the car.
Made with a very sturdy bows / frame, wrapped with a plastic tarp, some batting and some chicken wire!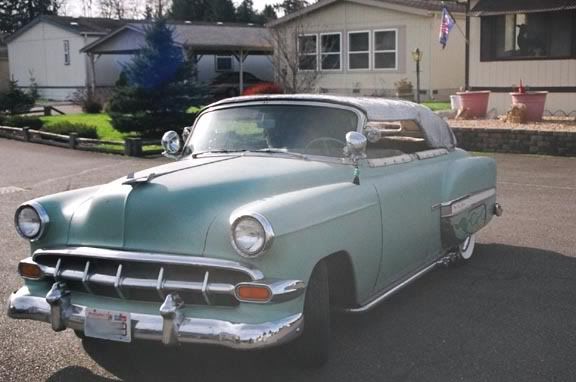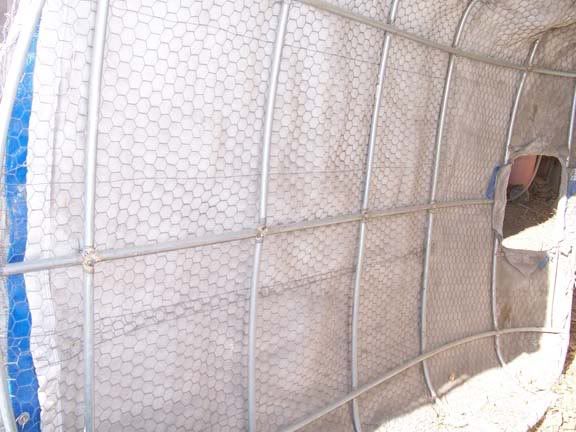 The top is more of a winter cover than anything but could be upholstered or
glassed for a real nice finished roof! It bolts into place and is very sturdy.
Marty passed away on February 10, 2006.
I loved the car and Marty knew it, so prior to his passing he had made
arrangements for me to take it over.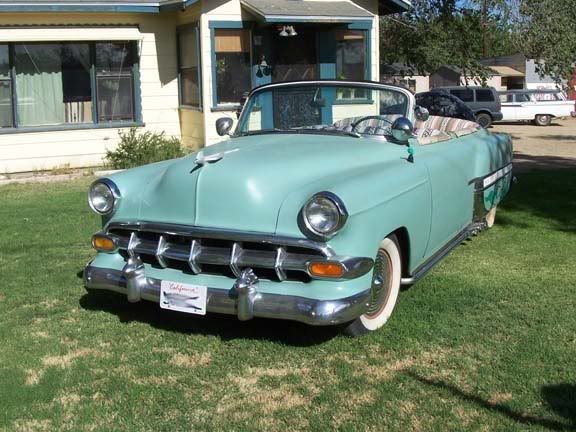 Since I've owned the car I've taken her all over and I always
get complements at car shows and other events.
she runs and drives like a luxury car and she's gotten a lot of attention too.
Photographers love her.
Photo by Zap / El Mirage
And she's been used in a couple of photo shoots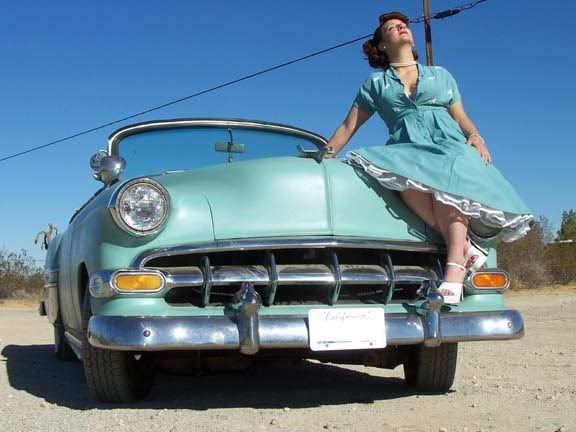 Margo Lee photo shoot 2006
And this last year we put her in our logo for the 9th Annual Kustom Kulture Extravaganza
Cartoon by: John Detrich / Layout by: yours truly....
Cruises 65 no problem!
Gets 12-14 miles to the gallon on the average.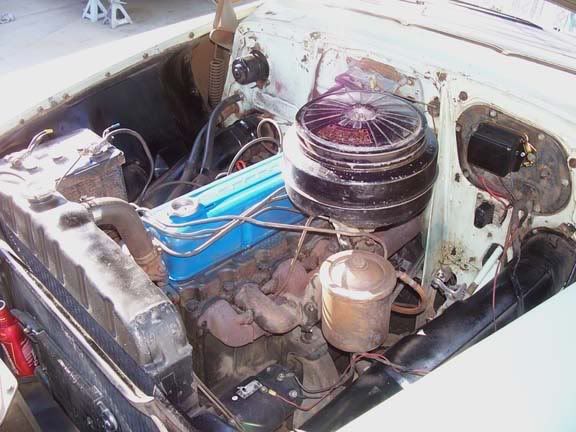 Since I've had the car I haven't had to do much.
I put in a new Generator and Voltage Regulator when I first got her, She still runs a 6 volt system.
Last year, I had a new radiator made up for her using the original tanks and a brand new core.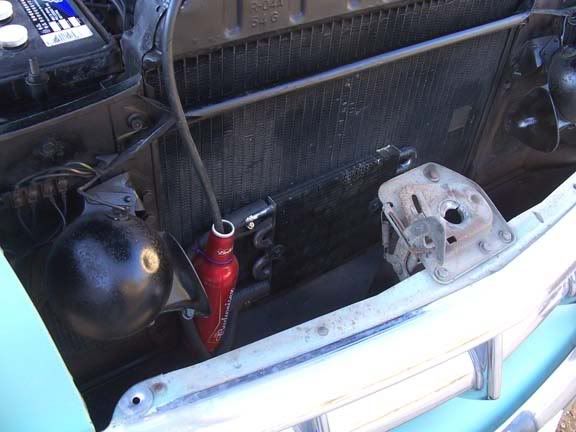 At that time I eliminated the old trans cooler and put a new a new one.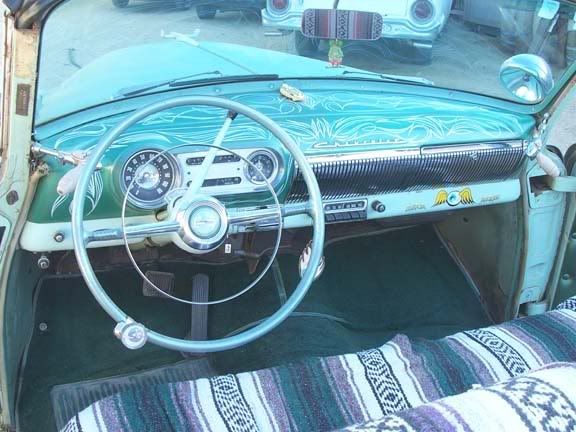 All of her gauges work except for the temperature gauge.
She doesn't seem to get hot, especially with the new cooling system.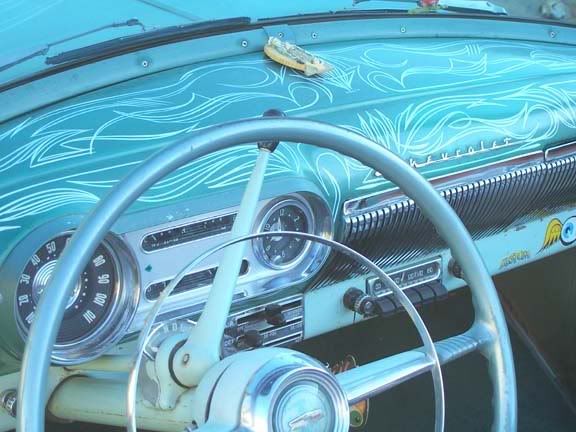 The clock and the radio "Do Not" work
The Heater and Vents Work!
Marty had pinstriper "Wolf" stripe the dash when the car was in Seattle.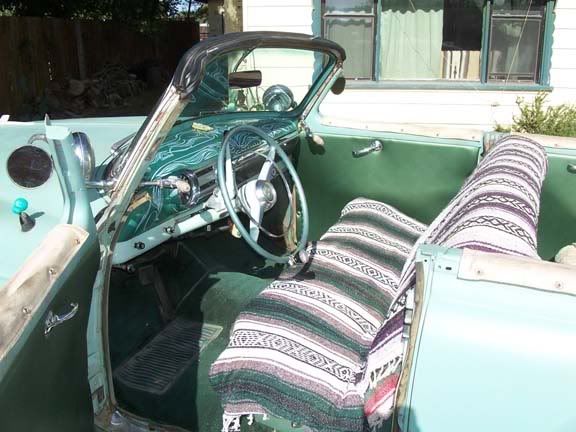 The interior as a whole is in pretty good shape., Carpet is still pretty nice.
The seat upholstery on the top is brittle, and so has always been covered.
The Mexican Blankets work just fine for me but the new owner might want to have it done!
The side vinyl is in great shape and the springs and sub frame of the seating
are in excellent condition and are very comfortable.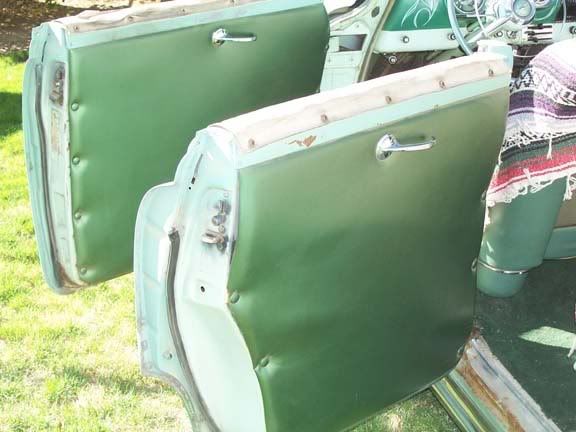 The door panels are in excellent condition.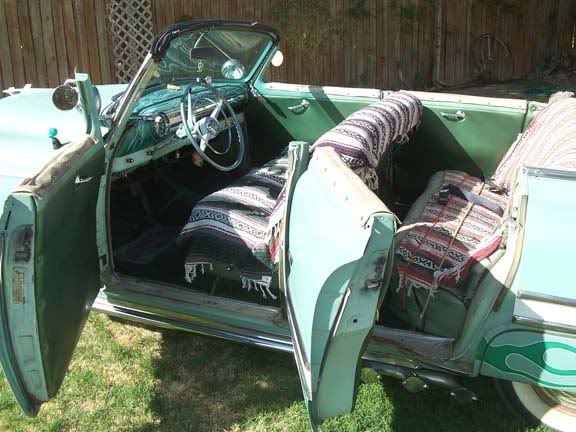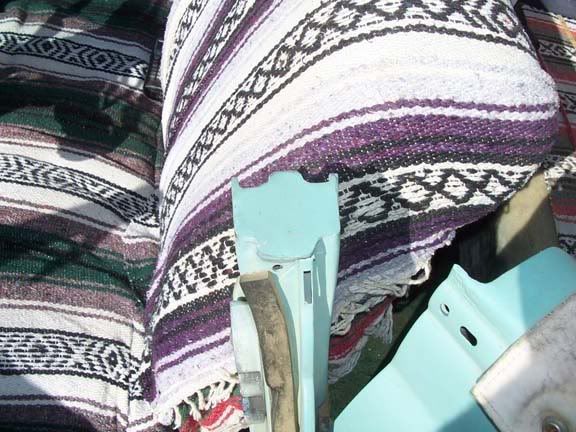 Doorpost / clean weld job.
She has diamond tail light lenses.
Clean Deck.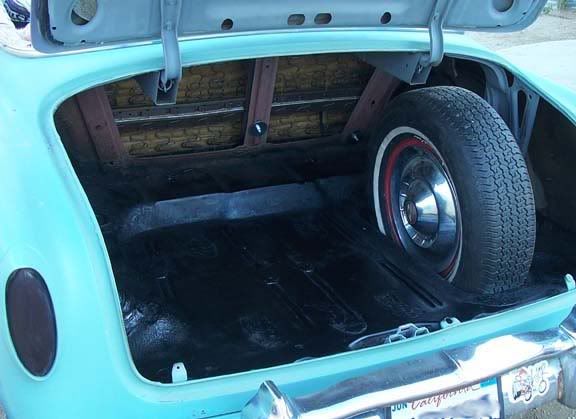 Trunk is clean, no rust.
The spotlights are real!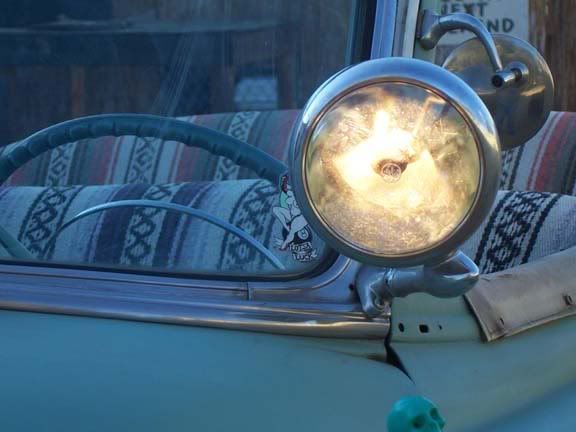 Driver Side Spotlight works great.
The passenger spot was working last fall, I think it needs a new lamp or a wire busted.
Mechanically the cranks work smoothly.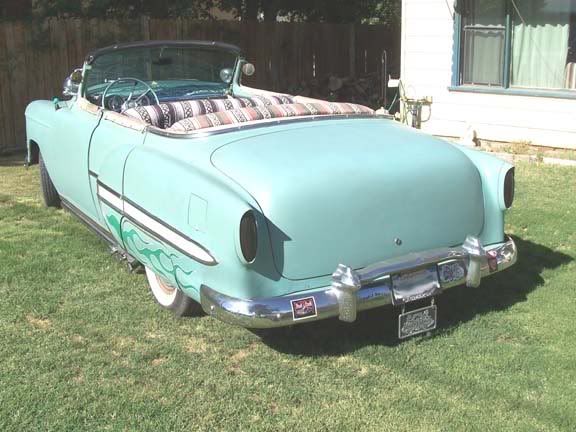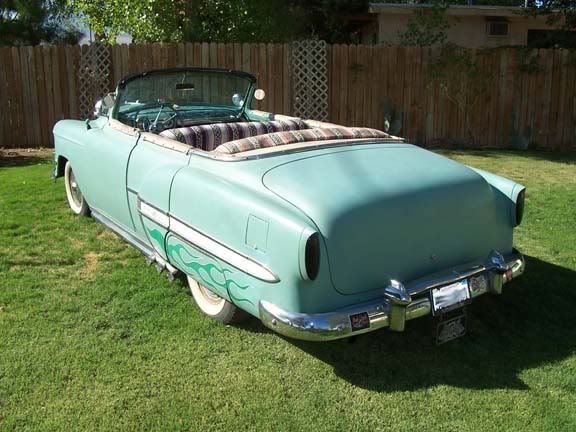 Anyway I was going to re-do all of this stuff to include the top but I've had a hard time dealing with going over Marty's work.
I mean he built the thing, and to tell you the truth she is great just the way she is.
She gets all the looks, and great attention at all the car shows, She's got such a low budget traditional look and her
minimalist body work gives her character.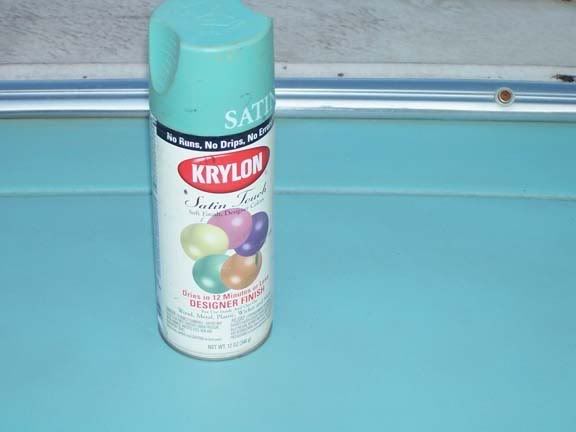 And maintaining her Satin Finish is a snap!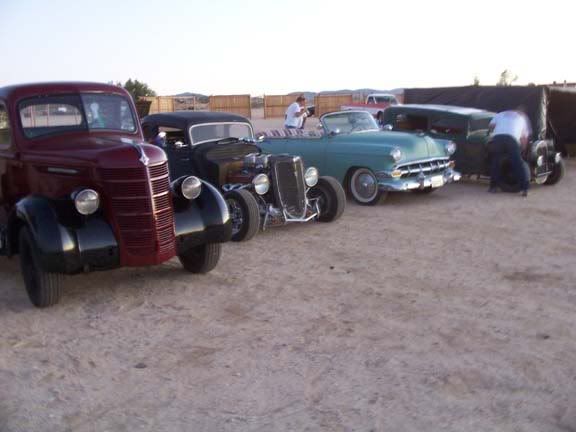 Marty loved this car and so do I.
In fact she's been very good to me, she's been one of my best runners and
I've known this car now for almost 9 years and there are a lot of memories wrapped up in her.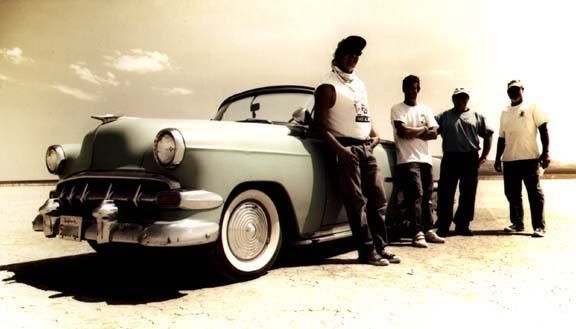 Defenders / Mutilators El Mirage 2006 by Zap