Ed 'Big Daddy' Roth: His Life, Times, Cars and Art
by Pat Ganahl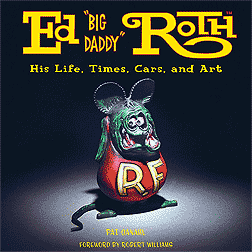 Foreword by artist Robert Williams
Who was Ed Roth? The answer depends on who you ask, and when they knew him. To some, he was a counter-culture, greasy-fingernailed, renaissance man of the mid 20th Century. To others, he's the creator of Rat Fink and builder of some of the most creative custom cars ever to get a coat of candy paint -- cars like the Beatnik Bandit, the Mysterion, and the Outlaw. Some knew him as a devout Mormon, and others recall a Harley-riding hellion with a devilish glint in his eye. He was a force of nature and a creative genius whose work had a profound influence on popular culture and helped spawn numerous subcultures.

Ed's rise to fame began in the '50s, and peaked with the custom car boom of the early '60s -- every kid in America knew who Rat Fink was, and many built models of his custom cars and wore his "monster" T-shirts. As custom cars went out of style, Ed turned to other pursuits, but a growing interest in hot rod history in the '90s brought him back to the fore, and he was more popular than ever.

To say his life was interesting is an understatement -- and this book covers it all, from art to custom cars, monster shirts to VW-powered trikes, and the wild life that brought it all together.
On Sale Now !!!! Order yours today !!!!!
$ 39.95 +S+H
For Ordering Information Contact Us
We Also Accept PayPal Sign Up Today


Last Up Date 02/11/03
Rat Fink™ name and device and Ed "Big Daddy" Roth and "Moldy Marvin"
are trademarks of Ed Roth © 1999 Rat Fink device © Ed Roth 84/1989
Copyright 1999/2000/2001/2002/2003 @utomated Entertainment Little Rock CA 93543