Scuz Fink / SuperFink Contest 2005
The Re-Issue of "Scuz Fink" & "Super Fink"
This is the first time since 1964 that either model has been re-issued
So in celebration we're gonna put on a contest!
Model Building Contest Rules:
In 1964 Revell and Roth Held a Contest to Name this Fink.

Click on The Image For a Closer Look at This Advertisement

Image of Original 1964 Box Art provided by Chuck Kaparich.

Thanx Chuck!

Image of Original 1964 Built up provided by Weldon McDowell

Thanx Weldon!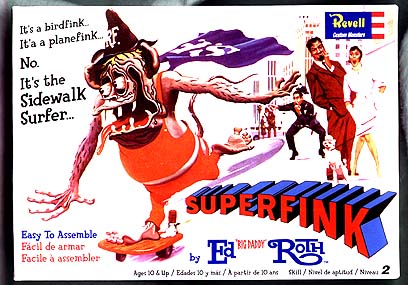 Entry: You have one of two options.
Option #1
purchase your model from Automated Entertainment and you are automatically entered.
Option #2
purchaser your model from any source and Send in a $ 4.00 entry fee.

The Contest is Open to Anybody that wants to enter.....

Canadian and Overseas entries "r" Responsible For paying Any Shipping and Duty that may apply.

How it works: After you have built up yer model you can Submit up to 4 Photos either By Snail Mail or by E-mail: (.Jpg , or .gif images please set 72 DPI )
| | | | |
| --- | --- | --- | --- |
| (1) Front View | (1) Back View | (1) Left Side | (1) Right Side |
| | | | |
After we receive your photos they will be posted on ratfink.org and Judged by Cyber Viewers There will be 10 finalist. Final Judging will be done by assigned Judges Dean Milano Product Development Coordinator of Revell Monogram and Moldy Marvin will be one of the Final Judges and will be the deciding judge incase of a tie.
Note: All cyberviewers must confirm by a real e-mail address that is hosted by a bona fide ISP. No Free E-Mail address will be allowed like yes mail etc.
Final Judging will be based on the correctness and detail of your model.
Things that we will be L@@King at.
Categories: (up to 50 points per category totaling 100 points over all)
(A) Paint Detail
(B) Gluing Technique Clean Seams etc.
Earn Extra Points by adding scenery or background image to give o'l Scuz-Fink that diorama Look
Prizes:
# 1 Every entrant will receive a bona fide Certificate of Completion and Honorable Mention on our Website along with fotos of their kit.
# 2 Top ten will receive a Rat Fink Key Chain.
# 3 Three runners up will receive a Rat Fink Key Chain and who know wot.
# 4 Grand Prize Winner Takes Home an Rat Fink Key Chain and bona fide Winners Certificate of Completion along with something else that we still gotta come up with.
We will also have a Jr. Category ages 6 - 12 Same rules and runner up prizes will apply.
Hey Dads !!! get together with yer Kids cuz We have added a new category for Team Built Models. Were still working on the Prize for that category. Teams need to add an additional $ 4.00 to their order or a total of $ 8.00 if they purchased the model somewhere other than us.
So where does yer money go when ya enter this thing ? Your Purchase or Entry fee help defer the cost of webspace development and fer posting yer images, and the wonderful prizes we give away.
The Contest Ends: April 4th, 2005 ohhhhhh,... so ya got plenty "o" time ta build yer model especially you Juniors that got nothin' better ta do this winter.
How To Enter:
Go to our entry Form and Fill it out print it and send it in.
If ya don't want to use the form then send in yer: Name and Address and Day time phone number Age and where ya purchased yer model.
If ya purchased yer model from someone else then don't forget ta send in yer $ 4.00 entry fee. $ 8.00 for Teams.
Sorry we're all sold out of the Scuz-Fink Kit but ya might be able to find them at you local hobby store. We do have plunty of Super Fink kits in stock.
So If ya want ta purchase yer Super Fink kit from us ($ 15.25 +S+H ) then click the link below and e-mail us with your order or ya can always call us @ (800) 880-6567 or (661) 944-2299 And you'll be automatically entered we will need yer address ta figure out the shipping for your final payment.
Note: If Yer sending yer Photos in by Snail Mail then Add $ 1.00 to your entry if ya want us ta send them back after we scan them.
NOTE: The Terms and the Rules for this here contest can change at any time.. Just thought we'd let ya know...
Make Check or Money Order to:
@utomated Entertainment
P.O. Box 1079
Littlerock, CA 93543
(800) 880-6567 or (661) 944-2299
Visit
(Ed "Big Daddy" Roth, Rat Fink, Scuz-Fink, Beatnik Bandit, Road Agent, Outlaw, Mysterion, Tweedy Pie, Stealth 2000, Surfite, Wild Child, Super Fink Angel Fink, Robin Hood Fink, Mothers Worry, & Dragnut are all trademarks of Ed Roth (C) '99)
This Page Last Up Date 01/07/05
Copyright 1999/2000/2001/2002/2003/2004/2005 @utomated Entertainment Littlerock, CA 93543