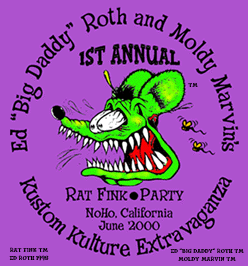 Ed "Big Daddy" Roth and Moldy Marvin's 1st annual Rat Fink.Party Kustom Kulture Extravaganza,
Klassic and Kustom Car Show June 24, 2000
(Page 1) last Up-date 03/03/01
| | |
| --- | --- |
| | (c) Sonny DePalma 2000 |
| | |
| --- | --- |
| | This woz our first annual Rat Fink.Party and boy woz it great. Next year it's gonna be bigger and better so stay tuned finksters cuz we're already puttin' our plan into effect. Now for you folks that got pictures of this here extravaganza send'em in ta Moldy cuz he woz so busy runnin' around that he didn't get 'a chance ta cover all tha stuff ta see. |
Ya know gang Ed is right, I woz runnin' around so much that I wozn't able ta get pictures of everything so Here's a list of things that we need pictures of:

The car show, Our Ankle Burner Alley Flame throwin' contest, The Charity Raffle and Auction and we still need some pictures of all of the bands. So if'in ya got somethin' ta send us ya can e-mail'em to me and I'll give ya a name credit if we use yer shots.
Get Ready for Our 2nd Annual Rat Fink.Party and Kustom Kulture Extravaganza July 21st 2001 for Details Click This Here Link
We Are Also Taking Orders On Our Official Show Shirt
S-XL $ 15.00 XXL $ 17.00 + $ 3.20 Fer Tha Shipping
Just Give Us A Call @ (800) 880-6567 / (818) 755-0820 Or E-mail Us
And Now A Word From Our Sponsors
| | |
| --- | --- |
| | Western Costume |
"New" !!! Real Time Chat Room Click This Link
Rat Fink™ name and device and Ed "Big Daddy" Roth and "Moldy Marvin" are trademarks of Ed Roth © 1999/2000 Rat Fink device © Ed Roth 1989
(Ed "Big Daddy" Roth, Rat Fink, Beatnik Bandit, Road Agent, Outlaw, Mysterion, Tweedy Pie, Stealth 2000, Surfite, Wild Child,
Angel Fink, Robin Hood Fink, Mothers Worry, & Dragnut are all trademarks of Ed Roth (C) '99/2000.)