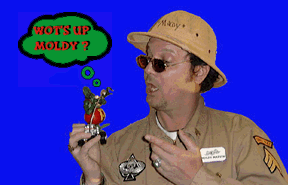 Well Rat FinK this here is our Home page... If'in ya need some info on how our website werks then Click This here F.A.Q. link. Ya kin get back to this page by clicking Home in our link bar that you will find at the bottom of each page.
Another Note: Always Refresh Our pages Cuz We Change'em all the time..
This page was Last Up-dated 09/11/01
Need Info on the Rat Fink Reunion 2001 ? Click Here
Please be patient this here page has got'ta a whole bunch of Images on it and may take a few seconds ta down load...
Sum New Stuff Ta Check Out !!!!!!!!
Roth Originals Currently On Exhibit @ Kulture Shoq Studios North Hollywood CA
| | |
| --- | --- |
| | MaZooMa FinKs We're makin' a documentary Movie about Ed "Big Daddy" Roth and his influences on Teens back in the 50's and 60's and how he has effected us now in the new millennium of Kustom Kulture and we want YOU ta send yer Stories. |
More ..Things Ta doooo !!!!!!!
Join These On-line E-Groups & Clubs

Note: Since Yahoo took over these sites they can be a little tricky to figure out ... just follow their directions and you should be able to get in sooner or later.. it's worth it cuz these groups and clubs can be a lot of fun.

Kustom Kulture Club
Kustom Kulture Art
Below is our Rat Fink webring.... We got Friends All over tha world that would like to meet ya!!!

If Yaw Want to Talk To Us Check Out Our Rat Chat Guest Book Just Click The Links Below




Rat Fink™ name and device and Ed "Big Daddy" Roth and "Moldy Marvin"
are trademarks of Ed Roth © 1999/2000/2001 Rat Fink device © Ed Roth 1984/89
(Ed "Big Daddy" Roth, Rat Fink, Beatnik Bandit, Road Agent, Outlaw, Mysterion, Tweedy Pie, Stealth 2000, Surfite, Wild Child,
Race ?, Angel Fink, Robin Hood Fink, Mothers Worry, & Dragnut are all trademarks of Ed Roth (C) '99)

This Page Last Up Date 08/13/01
Copyright 1999/2000/2001 @utomated Entertainment Burbank CA 91510